SWEET DURIAN PORRIDGE
Dear Readers,
Assalamualaikum and hello again. A repeat posting from Tea With Umi.An all time favourite of most Malaysians
Glutinous Rice in Sweet Durian Porridge (Pulut Bubur Durian)
.This is one dish that you can never cook in secret :). The smell of durian will permeates the whole house and into the neighbour's as well. The porridge is also good with bread.
I love the porridge to be thick.If you don't like it thick don't put in the corn starch mixture ya. Enjoy the video.
Here is the recipe.
Pulut Bubur Durian (Glutinous Rice in Sweet Durian Porridge)
Ingredients:
The Porridge
Some durians ( I used about 8 pcs.)
6 cups coconut milk
1 1/2 cups sugar
1 tsp salt
2 tbs. corn starch (mix with a bit of santan/water)
1 pandan leaf
Method:
1) Pour the coconut milk into the pot
2) Add in the sugar and durians.
3) Add in the salt and pandan leaf
4) Keep stirring until the porridge boils and some of the flesh of durians have fallen off.
5) Add the corn starch if you want it thicker.
6) Stir until it boils once more and remove from stove.
7) Ready to serve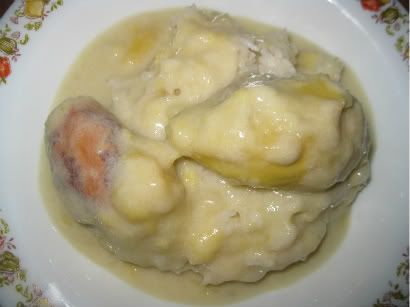 GLUTINOUS RICE WITH SWEET DURIAN PORRIDGE
The Glutinous Rice
3 cups glutinous rice (soak for 2 hours and drained)
2 cups coconut milk
1 tsp salt
1 pandan leaf
Method:
1) Place cut up pandan leaf at the bottom of the steamer tray.
2) Pour the rice and steam until its done. (10-15 mins if using pressure cooker)
3) Place the cooked rice into a bowl
4) Pour in coconut milk and mix well
5) Ready to serve.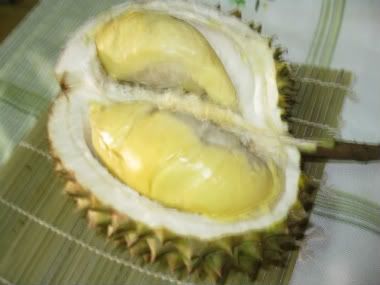 DURIAN FRUIT
Serving suggestion:
Place the rice in a plate and pour the porridge over it.
Bon appetit.
MY THOUGHTS
JUST CHILL SPOT
I have been too busy to spend time on my tiny garden.The plants are not doing too good and the grass was dead in patches due to the hot spell. So I have decided to plant new ones. I dug out the old ones and planted new. But the new grass wilted, turned brown and not doing too good either. I kept watering them and I think I have over done it. Now I think I have to get new ones and replant everything again. I am determined to make this garden green and blooming again. Don't like the view much now when I am cycling or reading there. I have to pay a visit to the nursery this weekend.
BIG LOSER WANNABE SPOT
Till we meet again. Take care of yourself ya.
Jazakum Allahu Khairan
Umi